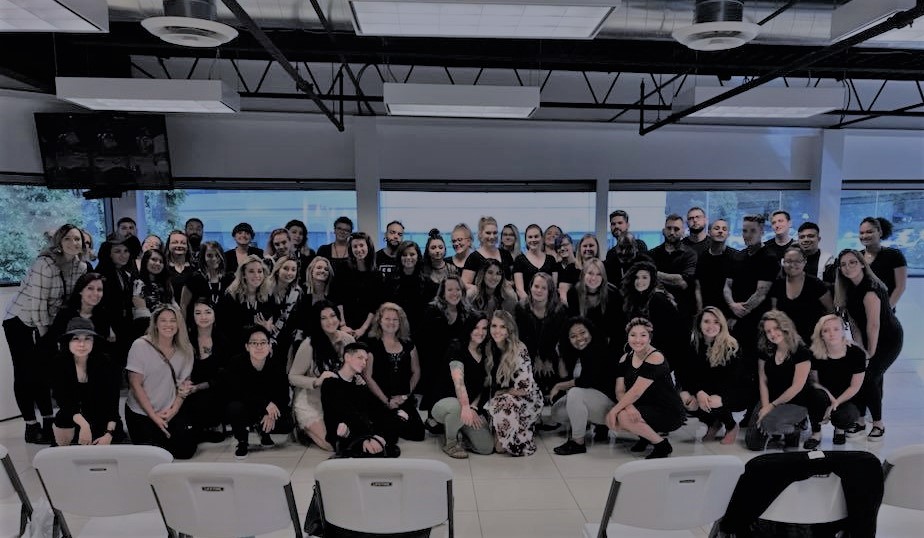 EXPERIENCE THE DIFFERENCE
CHOOSING THE RIGHT PLACE TO BEGIN YOUR CAREER CAN BE A DAUNTING DESICION. OUR ACADEMY FAMILY WOULD LOVE TO WELCOME YOU IN TO EXPERIENCE OUR ENVIRONMENT, CULTURE & VIBE.
THE BEAUTY INDUSTRY CONTINUES TO EVOLVE. OUR ACADEMY THRIVES KEEPING UP WITH WHAT IS HAPPENING AROUND THE WORLD IN OUR INDUSTRY. WE CAN'T WAIT TO INVITE YOU IN!
TIGI HAIRDRESSING ACADEMY LEGACY COSMETOLOGY SCHOOL IN CDA OFFERS CLASSIC EDUCATION WITH A MODERN TWIST. OUR ACADEMY OPENED THE DOORS TO OUR THRIVING RESORT COMMUNITY IN 2017. JUST MINUTES AWAY FROM THE STUNNING LAKE COEUR D'ALENE & CLOSE TO SPOKANE, WA – OUR STUDENTS GET TO EXPERIENCE A VAST URBAN AREA WHILE IN PURSUIT OF THEIR PROFESSIONAL CAREERS UPON GRADUATING. WE ARE LOCATED ONLY AN HOUR FROM MONTANA & SIT CENTRALLY IN THE GORGEOUS NORTHWEST REGION. YOU WILL FIND YOURSELF STRIVING TO LEARN ALL OF THE INDUSTRY HOW-TO'S IN OUR LARGE & WELL-MAINTAINED CDA CAMPUS. OUR ENVIRONMENT THRIVES WITH A PASSIONATE TEAM OF EDUCATORS & ACADEMY TEAM WHO ARE DEDICATED TO EDUCATING EACH STUDENT WHILE UPHOLDING AN ENVIRONMENT THAT BREEDS POSITIVITY & GOOD LEARNING HABITS. OUR 15,000 SQUARE FOOT FACILITY IS EQUIPPED WITH AMPLE TRAINING AREA & CLASSROOMS. WE BELIEVE IN UTILIZING UPDATED TECHNOLOGY & CURRICULUM TO OFFER REAL TIME & VALUABLE EDUCATION TO OUR STUDENT BODY. AS THE PREMIER HAIR SCHOOL IN CDA, WE OFFER COSMETOLOGY & BARBERING COURSES THAT BEGIN EVERY MONTH. 
lEARN MORE
Magna ante sequi pulvinar itaque? Animi cum mattis impedit porta cumque repudiandae! Mi dignissim, molestie officia.

HOW DO I ENROLL
Magna ante sequi pulvinar itaque? Animi cum mattis impedit porta cumque repudiandae! Mi dignissim, molestie officia.

WONDERING WHAT PROGRAM IS RIGHT FOR YOU? 
Aliquip quae scipit eros. Anim commodi maiores pharetra, arcu incidunt, omnis iste. Elit tellus, luctus nec ullam corper mattis, pulvinar dapibus leo.
LOOKING FOR MORE INFORMATION? HAVE A FEW QUESTIONS?
SUPPORTING STUDENTS IN THEIR JOURNEY TO SUCCESS
INFO@TIGIHAIRDRESSINGACADEMY.COM
A FEW WORDS FROM OUR COMMUNITY
Nancy Poeschl
My daughter recently attended the academy. She received an incredible education. The quality of the instructors is outstanding. She has started working in our salon as an apprentice and is also taking her own clients. The school gave her the knowledge and confidence to be successful. I am very grateful she has a fantastic start to her career. Nancy
Crista Martin
I have been coming to the academy to get my hair cut since I moved here 5 years ago. I have never had a bad experience! I have been impressed with the skill level and personal interactions of all my stylists. I can recommend coming here without hesitation.
Sarai Robbins
I took my daughter here a couple of times and figured I would give it a try. Excellent staff and the student who did my hair (I'm horrible with names lol) did an awesome job! All staff is friendly and they listen to what you want done with your hair. The instructors are awesome! It was definitely affordable and I plan to go back! The staff also try to make your experience enjoyable and comfortable.
Social Slider
No images found!
Try some other hashtag or username