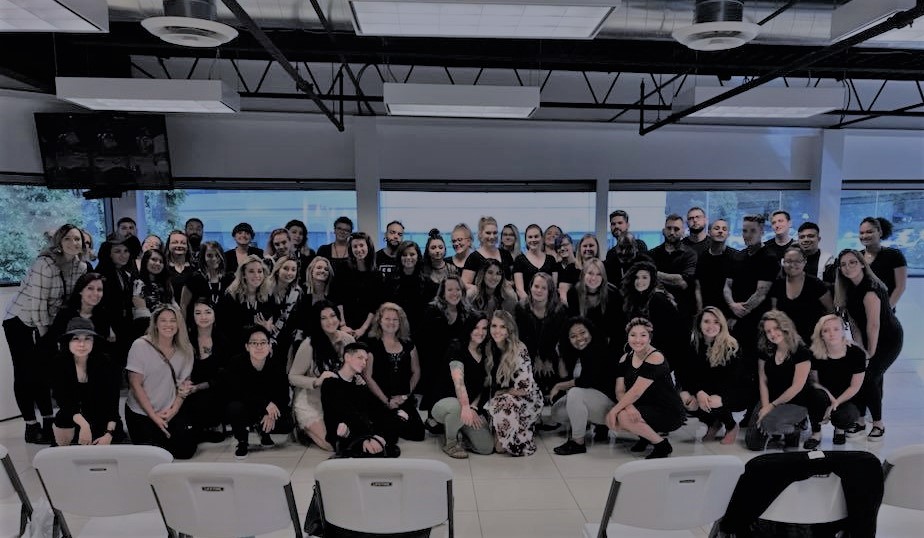 EXPERIENCE THE DIFFERENCE
CHOOSING THE RIGHT PLACE TO BEGIN YOUR CAREER CAN BE A DAUNTING DESICION. WHETHER YOU ARE SEARCHING FOR COSMETOLOGY SCHOOLS IN COLORADO SPRINGS, BARBERING OR AN ESTHETICIAN SCHOOL COLORADO SPRINGS. OUR ACADEMY FAMILY WOULD LOVE TO WELCOME YOU IN TO EXPERIENCE OUR ENVIRONMENT, CULTURE & VIBE. 
THE BEAUTY SCHOOLS IN COLORADO SPRINGS NEED TO EVOLVE. OUR ACADEMY THRIVES KEEPING UP WITH WHAT IS HAPPENING AROUND THE WORLD IN OUR INDUSTRY. WE CAN'T WAIT TO INVITE YOU IN!
TIGI HAIRDRESSING ACADEMY LEGACY IS CENTRALLY LOCATED IN COLORADO SPRINGS, ONE OF THE MOST DESIRABLE AND FASTEST GROWING AREAS IN THE COUNTRY. IS IT COSMETOLOGY SCHOOLS IN COLORADO SPRINGS THAT YOUR SEARCHING FOR? OUR ACADEMY OFFERS CLASSIC EDUCATION WITH A MODERN TWIST. WE OPENED THE DOORS TO OUR COMMUNITY BACK IN 1993. AS A THRIVING COMMUNITY, WE ARE SURROUNDED BY THE ROCKY MOUNTAINS AND SITUATED AT THE BASE OF THE ASTONISHING PIKES PEAK NEAR GARDEN OF THE GODS. OUR STUDENTS GET TO EXPERIENCE A VAST URBAN AREA WHILE IN PURSUIT OF THEIR PROFESSIONAL CAREERS UPON GRADUATING. YOU WILL FIND YOURSELF STRIVING TO LEARN ALL OF THE INDUSTRY HOW-TO'S IN OUR LARGE & WELL-MAINTAINED CAMPUS. OUR ENVIRONMENT THRIVES WITH A PASSIONATE GROUP OF EDUCATORS & ACADEMY TEAM WHO ARE DEDICATED TO EDUCATING EACH STUDENT WHILE UPHOLDING AN ENVIRONMENT THAT BREEDS POSITIVITY & GOOD LEARNING HABITS. OUR 18,000 SQUARE FOOT FACILITY IS EQUIPPED WITH AMPLE TRAINING AREA & CLASSROOMS FOR STUDENTS TO FLOURISH INSIDE OUR ESTHETICIAN SCHOOL COLORADO SPRINGS / HAIR SCHOOL COLORADO SPRINGS . WE BELIEVE IN UTILIZING UPDATED TECHNOLOGY & CURRICULUM TO OFFER REAL TIME & VALUABLE EDUCATION TO OUR STUDENT BODY. WE OFFER COSMETOLOGY, BARBERING, HAIRSTYLIST & ESTHETICS COURSES THAT BEGIN EVERY MONTH.
LEARN MORE
HAVE A FEW MINUTES? CURIOUS ABOUT IF THE BEAUTY INDUSTRY IS RIGHT FOR YOU? FEEL FREE TO CHECK OUT THE WEBSITE! YOU CAN EASILY ACCESS INFO ABOUT PROGRAMS & SERVICES, OR CONTACT US. WANT TO KNOW A LITTLE MORE ABOUT WHO WE ARE AS A SCHOOL ?
HOW DO I ENROLL?
MAKING A HUGE CHANGE IN YOUR PROFESSIONAL LIFE CAN BE SCARY! WE ARE HERE TO SHARE WITH YOU THE IN'S & OUT'S OF ENROLLING IN A BEAUTY SCHOOL. OUR TEAM OF EDUCATORS, ADMINISTRATORS & FRONT DESK COORDINATORS ARE HERE TO SEE YOU SUCCEED!
YOUR JOURNEY BEGINS HERE.
WONDERING WHAT PROGRAM IS RIGHT FOR YOU? 
I attended the Cosmetology course in May of 2016. I graduated and passed my boards prepared and excited to start a career. My first impression of the school was that It felt like a salon. The classrooms were big and our stations were decent size. My first day was hands on learning a hair cut, something I was really excited to do. I was taught something new from every single instructor I met. I felt like the instructors really cared for their students and wanted to share their tips and tricks. I really enjoyed bringing people in to demonstrate color techniques and hair cuts, it gave us real life experience that really helped with the expectation of working in a salon. I left school prepared and confident in my art. I had this new sense of self worth knowing I could do something that not most can do. I enjoy making others feel good about themselves and expressing myself thru the masterpieces.
LACEY MAU
academy alumni, colorado springs campus
LOOKING FOR MORE INFORMATION? HAVE A FEW QUESTIONS?
SUPPORTING STUDENTS IN THEIR JOURNEY TO SUCCESS
A FEW WORDS FROM OUR COMMUNITY
Nancy Poeschl
My daughter recently attended the academy. She received an incredible education. The quality of the instructors is outstanding. She has started working in our salon as an apprentice and is also taking her own clients. The school gave her the knowledge and confidence to be successful. I am very grateful she has a fantastic start to her career. Nancy
Crista Martin
I have been coming to the academy to get my hair cut since I moved here 5 years ago. I have never had a bad experience! I have been impressed with the skill level and personal interactions of all my stylists. I can recommend coming here without hesitation.
Sarai Robbins
I took my daughter here a couple of times and figured I would give it a try. Excellent staff and the student who did my hair (I'm horrible with names lol) did an awesome job! All staff is friendly and they listen to what you want done with your hair. The instructors are awesome! It was definitely affordable and I plan to go back! The staff also try to make your experience enjoyable and comfortable.